Have You Loved Being a Part of the Children's Academy Family?
Let the World Know!
The 5 minutes you take to leave a review could mean a new family hearing about the Children's Academy experience! The time you invest could make a difference in helping the Children's Academy family grow, and you could help fellow parents in the area make decisions about their children!
1.Google
https://www.google.com/#q=Children%27s+Academy+Brandon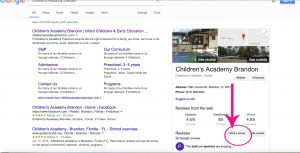 Google is probably the most read reviews!
Facebook
https://www.facebook.com/ChildrensAcademyBrandon/
Great Schools
http://www.greatschools.org/florida/brandon/8621-Childrens-Academy/
Yelp
https://www.yelp.com/biz/childrens-academy-brandon
Yellow Page
https://www.yellowpages.com/brandon-fl/mip/childrens-academy-11545850